Partnered with your EHR, DHRpro will help you
Increase Efficiency and Productivity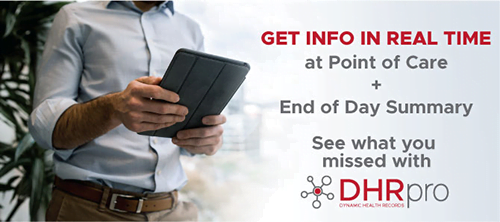 DHRpro collates all the relevant medical information health care providers and their staff need to understand patients' past and recent history on one dynamic dashboard. We track and present information so succinctly that doctors see patterns emerge and catch errors before they occur. 
Furthermore, built-in alerts warn of sudden clinical changes, calling attention to abnormalities and possible documentation or ordering errors.  Alerts also notify doctors when important diagnostic tests are due according to parameters set by the doctor. This facilitates fast and accurate decision-making for better patient outcomes and improved efficiency.
Studies confirm doctors are saving two to three minutes per patient with DHRpro, so it is not surprising that a three-year study conducted at Oregon Health & Science University determined that the time required to properly document a patient's visit increased an average of 6.8 minutes when electronic health records came into play. With DHRpro, data finally works for doctors.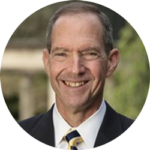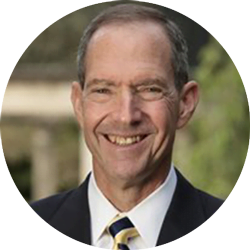 Michael Mittelman, OD, MPH, MBA, FAAO, FACHE
President of Salus University and former Deputy Surgeon General and Rear Admiral of the U.S. Navy stated the following.
Rarely, do you come across a computer program that is transformative.  DHRpro is one of those programs that integrates seamlessly with your EMR to provide unparalleled decision support by simplifying many aspects of glaucoma and other ophthalmic-related care.  The program provides unique temporality in the sense that any information you need is instantaneously visible.  Most importantly, DHRpro will help to facilitate the sharing of key patient care information between optometrists, ophthalmologists and potentially primary care managers, making care safer, more efficient and collaborative.
Increase Efficiency and Productivity
Dynamic Health Records offers a bird's eye view of everything important for patient care and reduces time spent navigating multiple screens. Instantaneous recognition allows for more patient-facing time.
Our first in the industry end-of-day review is an overview of every patient encounter complete with procedures and diagnostic testing performed in a day.  It captures the provider's entire day and helps to ensure that interpretations are complete and claims are created appropriately. Plus, our pioneering pre-day review helps clinicians and administrators check to see whether services are scheduled properly or if additional diagnostic tests are needed so clinics are planned efficiently.