Find Your Lost to Follow-Up Patients with Clinical Reporting
Filter For Your Most
At-Risk Patients
Send Tasks To Staff To Bring Those Patients In ASAP!
Locate Your Patients Lost to Follow-Up
Dive into your entire practice population and identify ALL lost patients with our Clinical Reporting system.  Then, from the same report screen, send tasks to your staff to get those lost patients back in the office right away.
We help practices identify lost to follow-up patients much more effectively than any recall system possibly could.  This is especially critical in the time of COVID where every practice has lost contact with so many patients.
We help practices identify patients who need care based on high risk diagnoses, procedures performed, or any other parameter you specify.  We provide you with the tools you need to filter and identify your most urgent cases.
DHRpro's unique Smart Patient Recall will help you:
Identify which of your lost patients need urgent attention based on the parameters you set.
Quickly send a task to your office staff to get those patients scheduled ASAP.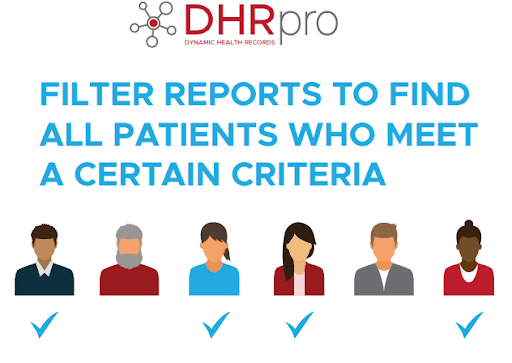 WE CALL THAT
SMART PATIENT RECALL!
Find Your Most At-Risk Patients.
Find Your Most Urgent Patients.
Find The Patients Who Need You!
DHRpro's Research Study Reveals Lost Patients
Nancy W. Crawford, M.D.
Glaucoma Surgeon and Former Program Director of Ophthalmology Residency Program at Drexel University College of Medicine
Dynamic Health Records: Clarity Like Never Before
Enjoy practicing medicine again.