Partnered with your EHR, DHRpro will help you
Provide the Care Your Patients Need
Patient Care
DHRpro's pioneering technology improves efficiency, increases accuracy, and enlists the power of the computer to help doctors. Our revolutionary dashboard instantly synthesizes and clarifies mountains of electronic medical records. This reduces computer-facing time while increasing actual time with the patient.
We reduce medical errors by catching them before they occur. Treatments, imaging, diagnostic tests, and clinical results are presented simultaneously on a single page. This facilitates rapid interpretation as well as cause and effect conclusions. Customized built-in alerts warn of sudden clinical changes, calling attention to abnormalities and/or possible documentation or ordering errors.  
Specialists who treat bilateral anatomies understand how exam distractions and EMR data entry contribute to right and left documentation errors. Our visual display and built-in pattern recognition algorithms help clinicians analyze patient information in context and record it correctly. DHRpro eliminates many of the daily questions challenging subspecialists.
Iqbal Ike Ahmed, MD, FRCSC
Dr. Ahmed is one of the most experienced complex eye surgeons in the world. He is known as "The Father of MIGS" and the inventor of glaucoma diamond scalpels and other innovative devices. He states the following about DHRpro:
"Directly correlating clinical and diagnostic findings with medication and surgeries has been one of the greatest challenges in chronic disease management. When the data is dispersed throughout an EHR, the challenge becomes nearly impossible to meet. The potential for technology to dynamically correlate all information to allow instant analysis and guidance has remained out of reach for so long – until now. Dynamic Health Records is the actionable, correlative data-visualization tool that has been so desperately needed to manage diseases like glaucoma. 
"No longer are we contending with the hindrance of massive amounts of data scattered across different screens. Finally, a solution exists to capture the power of the computer to assist doctors in accurately and efficiently managing medical conditions. This will transform the way we care for our patients."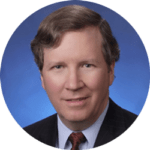 John T. Thompson, MD
Dr. Thompson is the former President of the American Society of Retina Specialists and recipient of the American Academy of Ophthalmology Life Achievement Honor. He made this statement about DHRpro:
"A good analogy to explain DHRpro is how the cockpit of jet aircraft are very carefully designed to give the pilot easy access to the most important information. Even though the plane requires many controls…the control panel has evolved to make it simpler for pilots to manage. This is what DHRpro does with medical records. 
"DHRpro is like the Rosetta Stone for EMR. It translates information often undecipherable within the EHR to something accessible and actionable."
Eye specialists want to be certain that their patients with chronic diseases, such as glaucoma or corneal disease, are properly scheduled for a visual field or OCT of the optic nerve. They also want to know when their patients last had these tests. They waste valuable time searching through the patient's medical record – looking for medication history, medication start and stop dates, and missed appointments.  DHRpro's subspecialty-specific dashboard displays these answers concisely and instantly, all on a one page.
Retina specialists who have injection patients constantly double-check whether the correct medication or the correct eye are ordered. Did the patient have cataract surgery or a history of glaucoma? At the same time, they wonder if the injection is authorized and whether they've been paid for past injections. Our retina flowsheet answers all of these questions with a single, quick glance.
Our customizable tool for all eye specialties helps doctors deliver comprehensive care for all conditions. First, Dynamic Health Records allows doctors to define their own preferred practice patterns, which trigger alerts when deviations from these patterns arise. Next, these notifications identify opportunities, which in turn, increases quality, decreases liability, and ensures that physicians are reimbursed for delivery of excellent care.