No Patient is a Simple Patient
No patient is a simple patient and retina patient, Gianna Moore has a file littered with a myriad of compliance concerns.  Her history appears to include an array of procedures, diagnostic testing, and billing issues dating back to 2014 that could be cause for concern. But fortunately, you have DHRpro, an add-on technology to your current EHR, which presents a complete view of Gianna Moore's entire patient history on one actionable screen. With customizable alerts and all information presented in context, you can review and address the compliance concerns you spot quickly and easily.
Getting To Know Gianna Moore
Moore is a 59-year-old female visiting for her regular checkup. Her primary insurance is Aetna Medicare, and you can see her unpaid patient balance of $53.26, likely due to a co-pay. DHRpro also shows the referring doctor, Dr. Abigail Hill, and the chief complaint for the latest visit.

DHRpro shows all of Moore's visits in a longitudinal column, including missed appointments, an important component for monitoring compliance with injections. In 2022, Smith missed five appointments, only two of which she rescheduled.
Complex Retina Patient's Procedures and Injections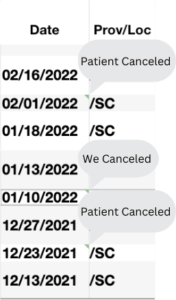 DHRpro shows all of Moore's historical procedures and injections side by side in longitudinal columns based on OD and OS. You can even filter the dashboard to see only the dates of service when either a procedure or injection was performed. At the bottom of the dashboard, all historical procedures and injections are summarized, and at the top, postoperative period countdowns are displayed.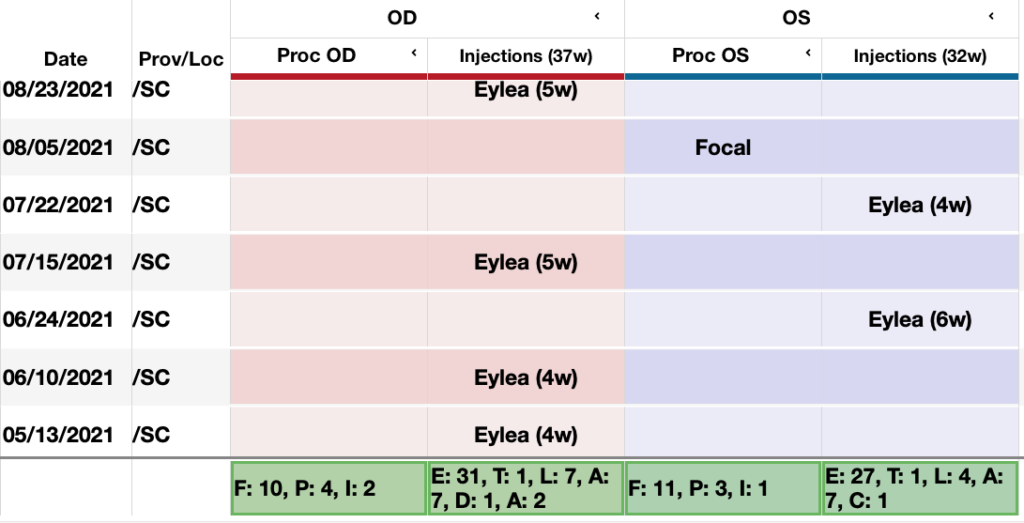 DHRpro gives you the ability to eliminate known inaccurate data. On 11/08/2021, for example, you can see that someone made a mistake in ordering. With DHRpro, the provider could reflect on previous plans and after discovering it wasn't true, could cross off the inaccurate data.

Compliance Concerns with Injections and Procedures
DHRpro also alerts you of any potential compliance issues. A red alert indicates that injections had been billed too close together, while a yellow alert indicates a clinical-billing mismatch.
A red alert for Eylea on 1/18/2022 shows that someone had billed the injection too close to the previous one, the Triesence, in under 28 days. Similarly, on 10/20/2021, a Lucentis sample was billed too close to the Eylea on 09/30/2021.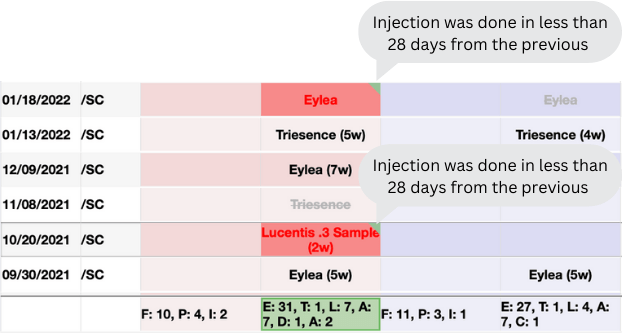 On 01/29/2018, DHRpro flagged a clinical-billing mismatch for the focal lasers billed in the right and left eye. While staying on the same screen, if you click on the billing icons associated with that day, you can see what prompted the alert. If you look under the modifier, you'll see that it does not indicate whether the procedure was performed and billed in the left or right eye. Because the modifier was left unspecified, DHRpro alerts the provider that something wasn't documented or billed correctly, helping you fix an issue that you may not have otherwise known existed.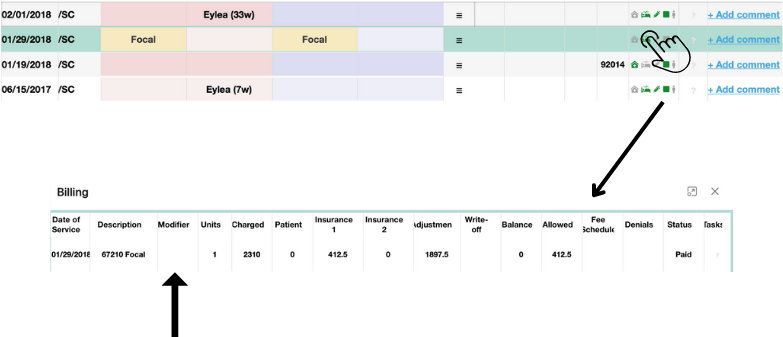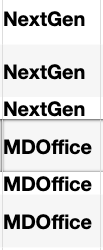 In Moore's case, DHRpro grabs information from two separate EHR systems and presents it on the single-screen dashboard. Whether Moore switched providers or her provider switched EHR systems, Moore's record has information from MDoffice and NextGen.
Assessing Visions and Pressures
DHRpro shows Moore's historical visions and pressures side-by-side her injections and procedures for optimal correlative analysis. DHRpro also creates alerts for any sudden historical decreases or uptakes in vision. Anytime the vision or pressure decreases or increases by two or more lines between visits, DHRpro lets you know. This alert is especially important because you likely don't want to inject your patient with any dramatic decreases in vision or spikes in pressure since it could indicate another factor you may have not yet identified.
By default, DHRpro shows you the best vision and pressure taken each day. When you expand the vision column, you also can see more historically documented visions. And with the IOP graph, you can see Moore's pressure graphically in the context of any procedures and injections.

Crystal Clear Revenue Cycle Management
With DHRpro, you can note all historic payment statuses to ensure that what you are doing has been paid for. On 08/18/2022, you can see that the exam was paid for (green), the injectable is in progress (purple), and OCT is to be paid for by the patient (black).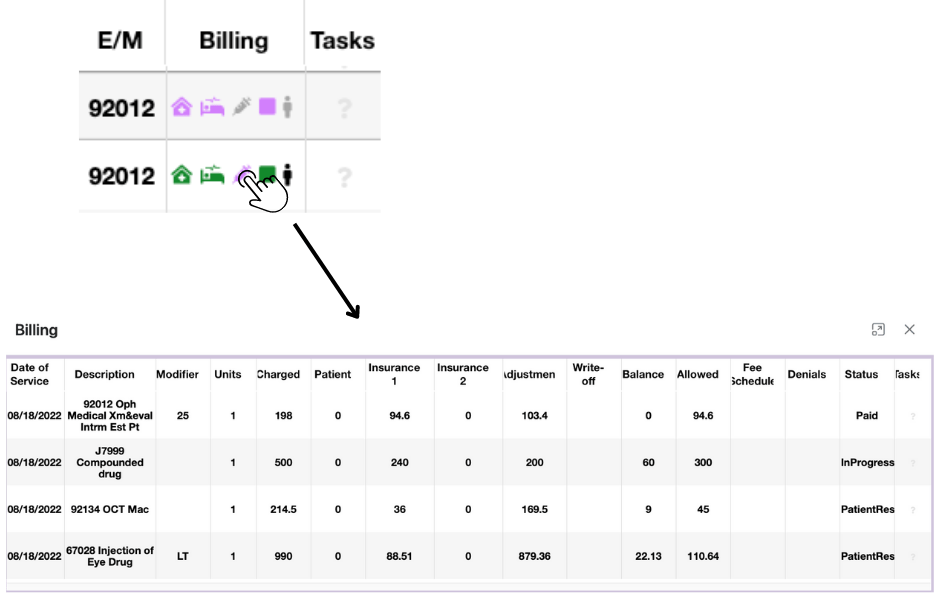 If you return to 06/16/2020, you'll see that the OCT and Fundus photo was denied for CO150 (payment adjusted because the payer deems the information submitted does not support the levels of service) and CO97 (procedure or service isn't paid for separately), letting you and the billing team know to take a deeper look.
DHRpro also allows for seamless communication between you and your billers. For example, if you see that an office visit was denied, on the same screen, you can easily send a task to your billers, communicating that denial. DHRpro connects billers and physicians so both parties can see the same information and communicate in context.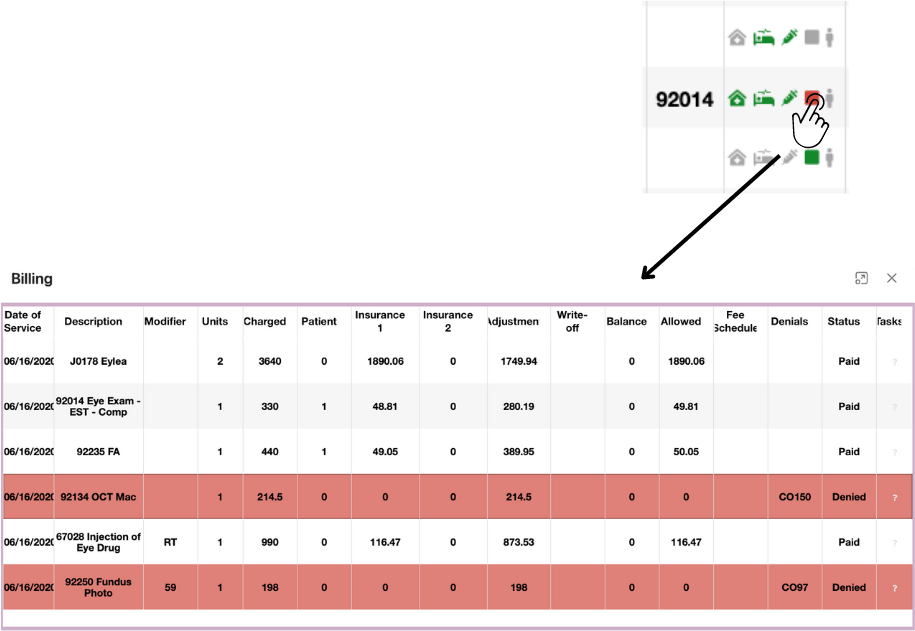 No Patient Is a Complicated Patient with DHRpro
DHRpro's patient dashboard simplifies one of the most complex retina patient's medical histories to a very simple, intuitive, and actionable display, providing you with everything you need all on one screen. It not only makes your exams more efficient, but it also assists in delivering a better quality of care. So, with DHRpro by your side, you can be sure that the next time Gianna Moore steps into your office, you are providing her with the most thorough quality care possible.